THE REAL CRAZY RICH ASIANS OF SYDNEY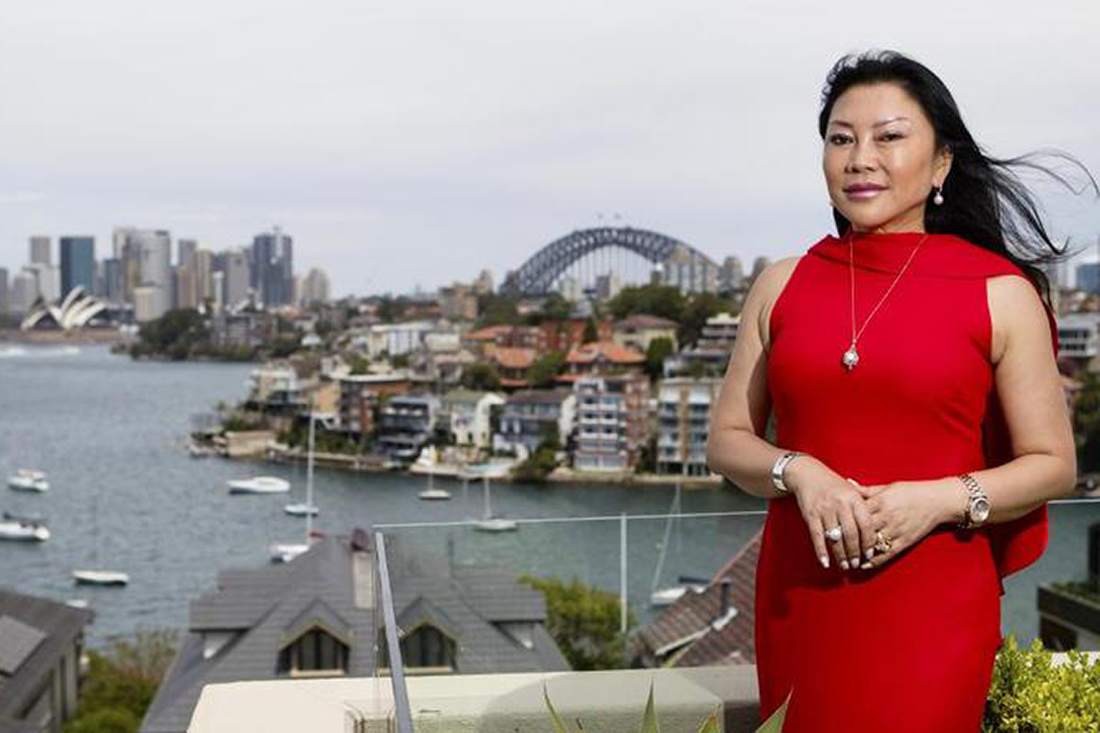 THE FILM Crazy Rich Asians was released this week to critical acclaim but the world of big spending its characters inhabit has become an authentic part of the Harbour City.
The movie Crazy Rich Asians may be fictional but the excessive environment the characters live in has become an authentic part of Sydney.
IT WAS a clear Monday night in a quiet pocket of Sydney Harbour when it started raining champagne and $100 bills.
The orgy of money and alcohol was inside a penthouse with views of the Sydney Opera House where, on a whim, 15 of Sydney's new Asian elite had gathered for an impromptu night of music and cigar smoking.
The attendees spoke many languages, but it didn't matter. This was a night when money did the talking.
One of the patrons wanting to show his gratitude to the hastily organised wait staff began pulling wads of cash from out of a Louis Vuitton bag.
Onlooker and party organiser Karim Gharbi of VIP Sydney was doing an informal count of the stacks of bills being thrown around the room but quickly lost track.
"He was just walking around handing out cash to everyone. There must have been more than $30,000 stuffed in that bag," Gharbi says.
Outlandish as it may seem, the lavish spending has become commonplace within the inner circles of Sydney's community of wealthy Chinese. Billionaires from mainland China, Hong Kong and Singapore, along with homegrown Asian tycoons, have turned the Harbour City into their playground. And when they spend here, they spend big.
It's a spendthrift lifestyle that found new attention this week following the release of the critically acclaimed film Crazy Rich Asians, based on the Kevin Kwan novel of the same name.
The romantic comedy depicts a world where Hennessy-swirling, cigar-puffing Asian fat cats and fashionistas fly private jets, host weddings with 888 guests and hoard designer clothes in climate-controlled wardrobes.
The movie has been described as a "guided tour of wealth porn". At its heart is the story of an Asian-American who discovers her boyfriend has been keeping secret his "crazy rich" Singapore family.
It's pure fiction, but the environment the characters inhabit has become very real — and very Sydney.
NEW MONEY
"The number of rich Chinese people visiting and living in Sydney is growing," Gharbi says. "To them, Sydney is like Vegas. It's where they come to have fun and spend money."
Gharbi's company VIP has been one of the primary organisers of luxury Chinese parties and events in Sydney, and he says there is a clear difference between their events and those hosted by other Australians.
"Most Aussies have a budget and like to stick to it. They don't want to go overboard," he says. "But Chinese clients don't talk about price. They'll do whatever they want."
The biggest spenders tend to be the children of mainland China's billionaires and multi-millionaires who come to the country to study, pick up business experience or simply holiday, Gharbi says.
Many have developed a penchant for designer clothes, fast cars and yachts, and like showing their money off in glittery parties around Sydney Harbour.
"They'll wear Louis Vuitton shoes. They like scotch and Lamborghinis. If they get chauffeured, it has to be a Rolls-Royce. They want whatever is the biggest and the flashiest," Gharbi says.
Entrepreneur and Black Diamondz real estate founder Monika Tu has built a business empire helping many of these "Chuppies" (Chinese yuppies) settle into Australia and says they usually go straight for high-ticket items.
One newly arrived Chinese "student" recently asked for her help getting adjusted to Sydney, which involved going on a shopping spree almost immediately after arriving in the country.
"We went jewellery shopping, then she got a $500,000 car. She also got $600,000 of furniture," Tu says.
Exclusive items in short supply often arouse the biggest interest from rich Chinese, she adds. This includes Blackwood Wagyu beef, which at more than $500 a kilogram is Australia's most expensive meat.
Tu also recently listed for sale on social media a range of $13,000 whiskey bottles — four of less than 100 ever produced. "They all sold out to Chinese in five minutes," she says.
Last year, attendees of Shannons Sydney Winter Classic Auction were left flabbergasted when a numberplate sold for $2.45 million to a Chinese-Australian sex toy magnate.
The multi-millionaire buyer Peter Tseng arrived at the auction in his red Ferrari bearing the No. 2 NSW numberplate. The plate he bought at auction was the No. 4 and he already owned a personalised "ONE" licence plate for his 1969 Mercedes.
OLDER GENERATION VS. NEW
There is usually a vast difference between how older and younger Chinese wealthy spend their money, Tu says.
Older Chinese, who were raised before the country's ascendancy to the top of the global economy, are often a lot more frugal and rarely want to draw attention to themselves, she says.
The one exception is when it comes to real estate.
Chinese-born Australian developer Chau Chak Wing, 64, shattered records in 2015 when he purchased La Mer, the matrimonial home briefly of James and Erica Packer, for a then record price of about $70 million.
Thrown in with the Vaucluse home were the bespoke furniture, silk rugs and artworks commissioned by the Packers. Chau concluded the entire deal sight unseen.
In December last year, 1946-born Singaporean tycoon Chio Kiat Ow was also in the record books when he sold nearby mansion Phoenix Acres for an incredible $67 million, Australia's third highest house sale.
Real estate developer Xu Jiayin was another Chinese billionaire behind one of Sydney's biggest real estate deals when he bought Point Piper mansion Villa Del Mare for $39 million in March 2015.
He was later forced to sell for being in breach of foreign ownership rules, but quietly offloaded the home to Chinese-Australian Lola Wang Li for almost the same price.
The wife of Chinese businessman and high-roller Li Liang was alleged to have visited the mansion at a New Year's Eve party, enjoying the view so much she decided to buy it, Fairfax Media reported at the time.
The home was only listed for seven days and took about five times quicker than the average Sydney property to sell — despite being almost 40 times the price, sales records show.
Chinese internet sensation Zetian Zhang, whose husband Richard Liu Qiangdong has an estimated net worth of $12 billion and is known as the "Jeff Bezos of China", has also dappled in Sydney real estate.
Zhang bought a three-level penthouse in The Rocks in 2015 for $16.2 million. She has since relisted the holiday home for $15-$16 million.
Century 21 prestige agent Joanne Dai sells numerous waterfront homes to wealthy Chinese and says they seldom buy real estate the same way as other buyers.
"They might come to view the home in flip flops and then pay for it in cash the next day," Dai says. "They want the harbour views, but the homes have to be near the best schools. That's really important."
GREAT GATSBY LIFESTYLE
One of the more popular areas for China's new rich, in addition to the old money suburbs of Vaucluse, Bellevue Hill and Point Piper, is Hunters Hill. The most notable rich Chinese resident was property developer Sam Guo — known to many as the Chinese Great Gatsby because of the lavish events he hosted at his $12 million mansion Windermere.
Guo made his fortune turning military bunkers into shopping malls and settled in Sydney soon after a Shenzhen court ordered he demolish an artificial floating island he had built and turned into his personal luxury resort.
Dubbed the "floating palace", the property was host to numerous extravagant parties and Monika Tu says he moved his lavish spending to Hunters Hill.
"I went to one of his parties. You wouldn't believe the things he'd do for guests," Tu says.
Karim Gharbi organised one of Guo's Sydney birthday parties and says most of the guests were flown from China by private jet.
"He just liked to spend, nothing was too much," Gharbi says.
The Chinese Gatsby was said to dress in robes, pose for photographs with instruments he didn't know how to play and talk about how he was a monk in a former life.
He has since left Sydney, but is renting his home out for a rumoured $6000 per week and may return.
Carrie Law, director of Chinese real estate website Juwai.com, says more of his ilk are likely to move to Sydney. "If you think there are too many foreigners in Australia today, I have bad news for you," she says.
"More are likely to come. More than half of wealthy Chinese plan to move overseas … They love China, but they like Australia, too. They are straddling two worlds."
Original article: https://www.realestate.com.au/news/the-real-crazy-rich-asians-of-sydney/